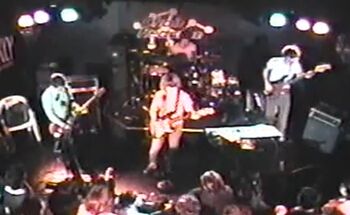 Rilo Kiley performed at Chain Reaction in Anaheim, California on January 28, 2001.
The concert featured eleven different acts and was one of several benefit shows for musician Petra Haden, who was brutally struck by a car in Venice, California while crossing the street in August of 2000. She broke several ribs, her pelvis, and nearly lost an eye. Doctors inserted a permanent metal rod into her right leg. Due to her injuries, Haden was and unable to perform for months after the accident, and because she had no medical insurance, her medical bills ran into six figures.
Rilo Kiley was the second last act to go on. The doors opened at 5:00 pm, and Rilo Kiley played from about 9:50 to 10:10.
Musicians
[
]
Setlist
[
]
Accompanying Acts
[
]
Campground effect
Devin Endo
Jack's Broken Heart
Velcro
Endicott
Psoma
Kevin Ridel
Ozma
The Hippos
The Killingtons
Memorabilia
[
]
unknown
Recordings
[
]