You may be looking for the article on Jenny Lewis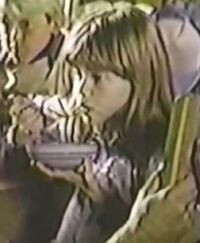 Jennifer was a character played by Jenny Lewis on the TV pilot Suburban Beat.
Jennifer was the daughter of Joanne (Dee Wallace Stone) and Charlie (Jeff Severson). She lived with her parents and brother Nils (Troy Eckert) in the suburbs of Jericho Downs, and was a member of the Campfire Girls. Her paternal grandmother Jeanette (Elena Verdugo) hung around the house often.
The night before her mother discovered the dead body of Ruby Sidowicz, Jennifer was allowed pick what to watch on TV and she chose The Wizard of Oz, but Nils changed the channel right after Dorothy's house fell on the witch. The next morning, she had to ask her father what happened afterwards.